The Benefits of Aluminium Folding Doors
The Characteristics and Benefits of Aluminium Folding Doors
Out of a variety of door designs, folding door is another type of door that is commonly used in interior design and it is gaining more popularity these days as it suits the modern home design, versatile, maximizes spaces, easy to operate and at the same time allows good privacy. However, some may still ask, "What are folding doors and what are their advantages?" Let us look into it.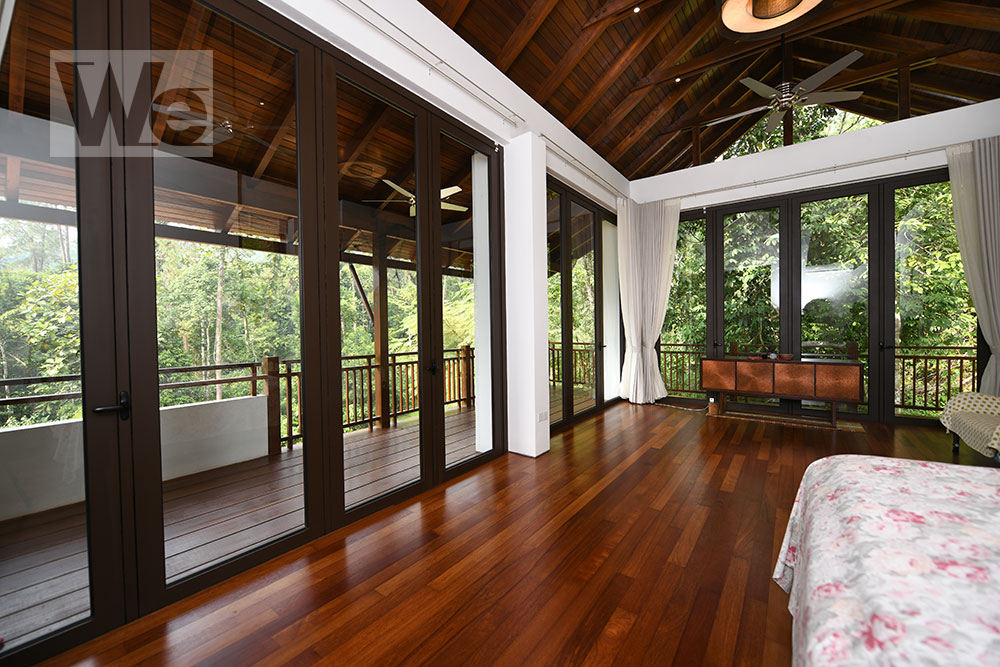 What is aluminium folding doors?
Aluminium folding doors are also known as bi-fold doors, foldable doors, multi-fold doors, collapsible doors or foldable sliding doors. This type of door consists of multiple panels or sections that can be opened and folded either internally or externally. They are mainly made of aluminium door frame, glass, swing arm component, rotating device, track and wheels. When you open the door, each panel will fold back and stack upon each other. At the same time, it will slide to a side to allow more space. These unique features mark a huge difference from the traditional French door and sliding door.
1. Basic materials
Generally speaking, folding doors are made of aluminium alloy, and the international standard of their thickness is 1 – 2mm thick. Therefore, folding doors that meet such standards are very sturdy and not prone to deformation. Due to the high cost of raw materials, the price of aluminium alloy is relatively high.
2.Tracks and wheels
The rails and wheels of the aluminium folding door are all made of high-quality aluminium alloy. In this way, the folding door can be easily folded and extended so that the opening space can reach the maximum limit. It is also not easy to deform after a long period of time.
3.Glass
Compared to sliding door and French door, folding door requires a relatively large area of glass. For safety purposes, it is recommended to select tempered glass which is more secure and safe although it has a higher price point than float glass. There are two types of glass used for folding doors, which are single glazed and laminated glazed. In general, laminated glazed folding doors perform better in terms of strength, thermal insulation and sound insulation. They also prevent condensation and reduce damages of sun and heat to furnishings. Hence, single glazed folding doors are mostly used for the kitchen and bathroom doors while laminated glazed folding doors are used for balcony and patio doors.
Advantages of folding doors
1. Folding doors can effectively save space, add convenience and comfort to life. They are connected by multiple sections, which can be moved to the side and occupy less space. The simple push-pull or slide-and-fold action can easily join or separate two spaces when needed. Compared with traditional swing doors and sliding doors that can only be opened to a certain extent, folding doors which applied folding technology, can be folded and extended so that the opening space can reach the maximum limit. Hence, folding doors are commonly used in interior design and as the gate of public places. By doing so, they create seamless transitions from indoors to outdoors and provide a panoramic view of the outdoor.
2. Folding doors are mostly made of lighter materials. They have good performance in terms of heat insulation, fire resistance, noise reduction, acid and alkali resistance and corrosion resistance. Therefore, folding doors are used widely as modern bathroom door, kitchen door, balcony door, etc.
3. When it comes to architecture design, aluminium folding doors are stylish, modern, and they can increase the aesthetic value of your living space. It is suitable for all kinds of villa doors, living room doors, balcony doors, store doors, studio doors, garage doors and so on. Automated folding doors are also installed in commercial buildings as they are elegant and modern.
To conclude, aluminium folding doors are elegant, light weight, easy to operate, safe and space saving. The cost effectiveness of installing aluminium folding door is higher and last longer as compared to wooden doors and steel doors. If you are thinking of installing a door that is secure, durable and requires minimal maintenance, choose aluminium folding door.