Some personal thought about installing security mesh windows
Many people think that installing security windows and security doors can keep your home safe. Some property or companies do not allow security mesh windows to be installed for the sake of the community image, so they have to find ways to install them behind the windows or paint on the security mesh using the same colour as the window frame. These security meshes have indeed helped to improve the security of your property to a certain extent. However, if the security mesh installed is made of inferior material or poorly designed, it will not only defeat the purpose of installing security mesh windows, but also put your loved ones in danger. For optimal peace of mind, it is advised to look into the quality and material of the security mesh doors and windows before purchasing one.
Installing security mesh windows and doors are getting popular these days as they are secured, easy to install and durable. Compared to steel bars and grilles which give a notion of being locked in, security mesh windows and doors have added benefits such as providing good ventilation while keeping out the insects. Out of the varieties of choices out there, we need to be aware about the product that we want, what is its purpose and how well it can perform. A product that is advertised as a security mesh window or priced expensively may not necessary mean it is a high quality security mesh window and it provides good security.
There are several considerations and tips to help you in selecting high-quality security mesh doors and windows. First and foremost, the materials of the security mesh. Undeniably, the material used in the making of the security mesh windows and doors will greatly affects the level of security they provide. Bear in mind that security mesh is different from fly screens, steel bars and grilles. Generally, security mesh can be made from different materials such as fibreglass, aluminium and stainless steel. They are woven and patented into mesh panels to be used as a penetration-resistant shield behind safety windows and safety doors to provide security and protection. High grade stainless-steel security meshes have relatively high tensile strength, excellent corrosion resistance and they are more durable when compared to other materials. Additionally, the security mesh must pass several tests and meet our national standards.
Secondly, the thickness of the security meshes. Thicker security meshes are stronger and they perform better. Generally, the thickness of the security mesh should be 1 mm or more. You should ask the dealer for the material specifications or a sample of the material for comparison before installing the security mesh.
Other than the security mesh, you should also take note of the accessories and the parts that come along with the security mesh such as the locking system, frame, hinge and handle. These parts need to work together with the security mesh in order to give you and your family the ultimate protection. Additional features such as aluminium frame, multipoint locking system and concealed hinges can prevent your door and window being pulled out by the intruders easily. These accessories and parts are essential to improve the security level and durability of your windows and doors.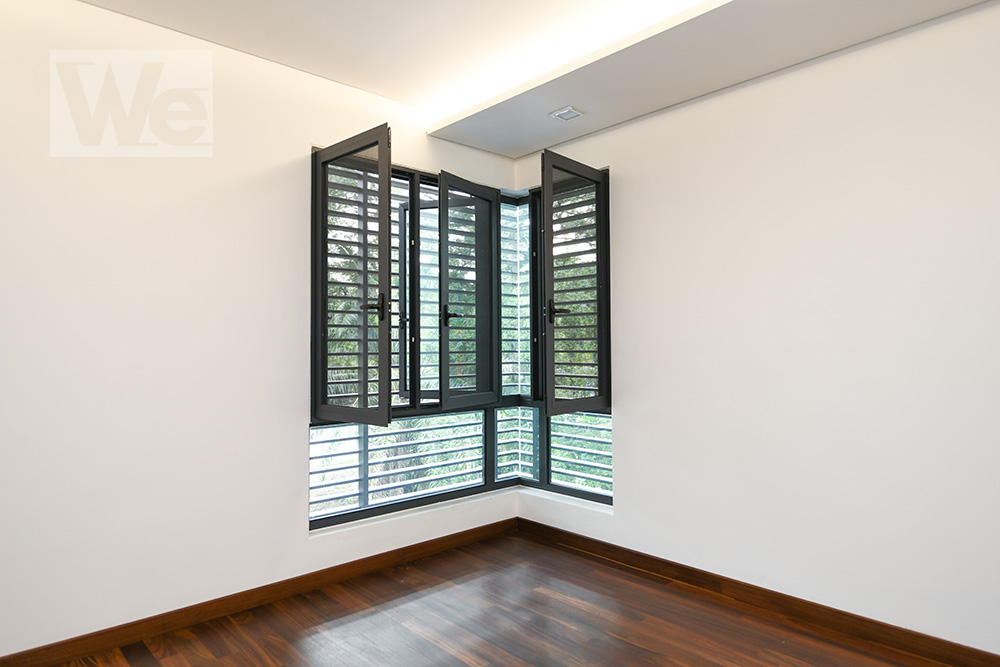 Compared to conventional steel bar, security windows and doors are good deterrent to intruders and burglars. The fully enclosed security windows not only prevent thieves from entering, but also the people inside cannot get out of the house. It is not easy to escape in the event of an emergency such as a fire or earthquake. Therefore, it is recommended to design an escape exit when installing security mesh windows, which can be locked at ordinary times and can be opened easily for escape during an emergency. A good quality security door and security window are also fire retardant. They will help to stop the spread of the flames. Besides, the pattern of the security mesh should be vertical rather than horizontal to deter intruders from climbing the mesh and steel. In addition, the spacing of the mesh should not be too large so that it will not be damaged or clawed by your pet.
In conclusion, security mesh windows and doors is one of the security systems that you can install in your house to provide basic protection to your family and possessions as windows and doors are our first line of defence. So, you should consider installing one in your home.