Top Sliding Door Designs in Malaysia
Sliding doors are a popular type of door in Malaysia – thanks to their versatile functionality and flexible design. Unlike doors with a panel that swings open, this type of door is mounted or suspended from a track and opens horizontally by sliding to either the left or right. 
Benefits of Sliding Doors 
It's easy to see why Malaysian homeowners favour sliding doors. These doors offer a host of benefits that would contribute significantly to the comfort and value of your property. 
Provides easy access 
Sliding doors move easily on their tracks, ensuring quick and easy access to a space. Just slide them across the rails to open or close them quickly. As they are practical and convenient, sliding doors are a good choice for high traffic areas. For example, a sliding door that leads to the front yard or garden lets you access these areas multiple times a day in a fuss-free way.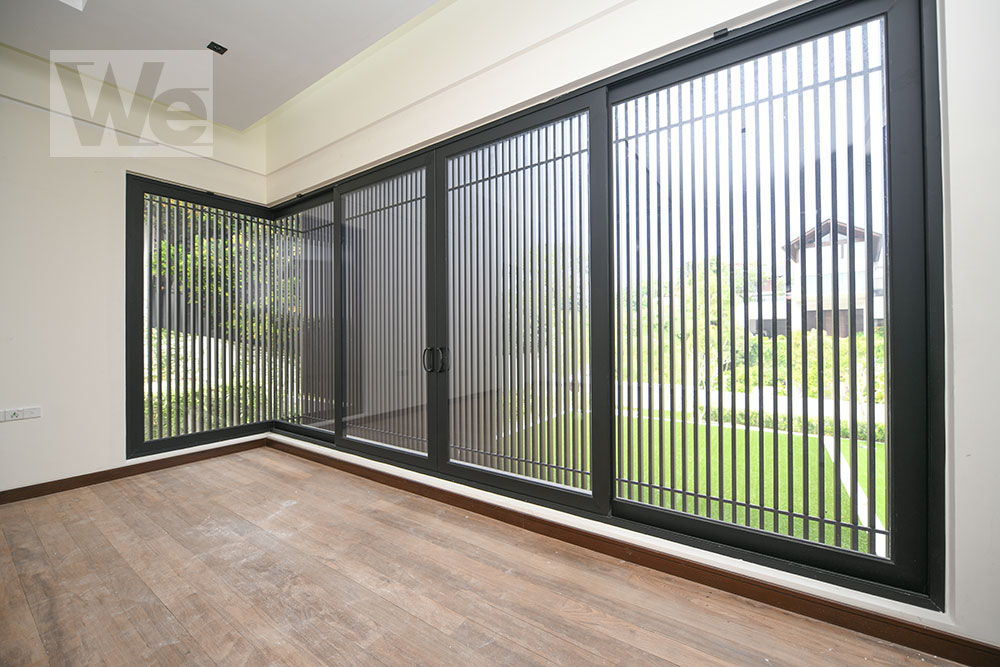 Optimising views, natural light, and air 
Apart from offering convenient access, glass sliding doors allow natural light into the home while allowing you to enjoy outdoor views. When the day cools down, you can easily open the sliding door to let in light breezes to ventilate your home. 
A space-saving solution
As sliding doors don't require any room to swing open, they can help maximise space. Visually, sliding doors create a more spacious and luxurious ambience. Ideal areas for a space-saving sliding door include patio or balconies, walk-in closets, powder rooms, storerooms, and home offices.
Sliding Door Designs for Modern Homes  
In Malaysia, a plethora of sliding door designs are available to meet a multitude of specifications. Whether you are thinking of having a sliding door for your semi-outdoor space, balcony, kitchen, bathroom, or walk-in closet, you can choose from a wide range of styles, materials, and installations to fit your space.
In terms of material, aluminium sliding doors are highly recommended. When you install a sliding door on your property, you are essentially looking to replace a large section of your wall with glass. Therefore, always go for a quality sliding door material such as aluminium. This way, you can rest assured that you have invested in a long-lasting piece that can endure daily usage well. 
Additionally, aluminium sliding doors are very light in weight, easy to handle, and provide excellent thermal insulation. Style-wise, aluminium sliding doors exude a minimalist and contemporary appearance. 
Take a look at these sliding door designs from Window Elements which incorporate different elements to make them safe and highly functional.
Sliding glass door with security mesh in the centre panel
Ideal for larger spaces that open out to the garden or patio, this design also ensures home safety – thanks to the high tensile security mesh in the centre panel, which is designed using Window Elements' Arxtech security mesh. While it is finely woven, the stainless-steel mesh is highly resilient and offers a durable barrier that can withstand any break-in attempts. 
The sliding door also features a multipoint locking system and an additional quality hock lock for even better security. Along with premium handles and a smooth track for easy manoeuvre, this sliding door design adds a luxurious yet minimalist touch to interior spaces.
Extra-large sliding door panel
This type of sliding door utilises a large glass panel to offer clear and unobstructed views. Combined with ultra-smooth operation, it is easy to open and close, making it perfect for spaces that you access throughout the day. Additionally, the wider glass panels also maximise natural sunlight and ensure optimal natural ventilation when opened. 
If you are looking for wide and large glass sliding doors, Window Elements' Optima 68 Sliding Doors offer a unique solution that combines a spacious opening with quality components. This range also comes with fine combs of wool hair attached to the frame gaps for sound insulation as well as accessories and rollers (custom made for Optima) to ensure smooth and graceful motion when you open and close the door.
Glass Sliding Door with External Security Mesh
A good choice for indoor-outdoor access, this type of glass sliding door is secured with high-tensile security mesh on the outside to prevent break-ins. It is also an excellent alternative to conventional grilles that are common in Malaysian homes. Unlike the bulky, jail-like appearance of iron grilles, sliding doors with security mesh offers a sleek, sophisticated, and elegant aesthetic. Designed with the Arxtech Sliding Door system, this security sliding door also features two crucial accessories: a 6-point locking system and fully imported rollers.
For more sliding door design ideas, check out this article.